Display menu functions
Full screen
Active online display screen can be enlarged on full Dewesoft window by pressing Ctrl-F. To escape from this mode press Esc button on your keyboard.
Add new display
Displays can be managed by choosing the display icon (shown in green color below).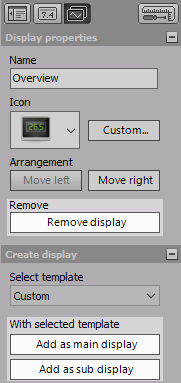 If we want to create a standard display, then choose it from the template list. If we want to create just an empty display, then Custom template must be chosen. We can add the display as main display, which will add a new screen right next to the selected display on the display menu bar. Then we can change the name and icon by changing Display properties.
We can also add the display as a sub-display, which will add a new display as a child item of currently selected screen. The display icon will get a drop-down button to change the currently shown display.
Additional display screens
When you have added additional displays, you can select them directly with the down arrow next to the appropriate display icon: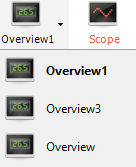 Name of the displays can be changed by entering a new name in the Display name field. Icon of the display can be changed by setting one of the standard icons or by selecting any file when choosing the Custom item from the Icon drop-down and then selecting any image file. 32x32 is the best resolution for custom icons. We can also move display left or right by choosing the Move left or Move right button.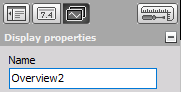 Delete display
Selected display can be deleted with selecting Remove display option from the Remove menu; after selecting this option Warning window is shown.