GigE
Introduction
In Windows 10 NDIS driver 5.x is not available anymore, that means that GigE v3.6 and lower versions are not supported anymore (since those versions depend on NDIS 5.0 driver). GigE v4.1 with support for NDIS 6.x is intended to replace the old driver. The new driver supports Windows 7 and higher. It replaces the old package with the same functionality and will be developed further.
GigE driver v6.0 installation
If you are making a clean install, just install new SDK and Dewesoft driver:
OptoMotive_OptoStreamSDK_V2_7_5_0.exe (OptoStream SDK and FilterDriver)
GigECamera.cdv (Dewesoft driver, copy the file to Addons folder)
GigECameraDef.xml ( *.xml file for 3rd party camera support, copy the file to Addons folder)
During SDK installation make sure to check "32bit dll on 64 bit Windows" under installation, if usin 32bit Dewesoft.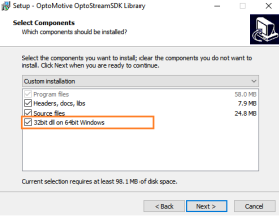 If you have the previous installation of GigE drivers (Smartek_GigEVisionSDK + GigeCamera v3.6 or lower driver) than you need to remove them first. That includes removing of SDK and FilterDriver.

After the installation, reboot the PC: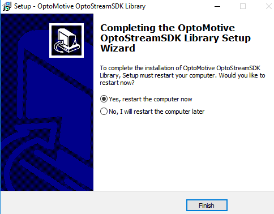 After logging back in please copy "GigECamera.cdv" and "GIGECameraDef.xml" to the Addons folder in Dewesoft installation folder: e.g. "C:\Dewesoft\Bin\X3\Addons" folder.

If the 64bit version of Dewesoft is installed, then copy the "GigECamera.cdv" and "GIGECameraDef.xml" to the Addons64 folder in Dewesoft installation folder: e.g. "C:\Dewesoft\Bin64\X3\Addons64" folder. Run the "Dewesoft DCOM Registration" to register the plugin.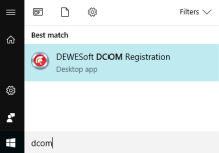 Check the Addons option and press the Register button to register new add-ons.

Setting up the GigE Add-On in Dewesoft
To add a new GigE camera go to Options -> Settings -> Devices -> Add device, and an Add device window will open: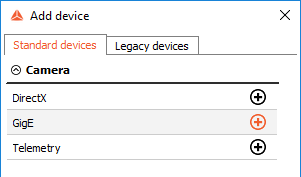 Under Standard devices -> Camera, select and click on GigE tab, that will create a new system.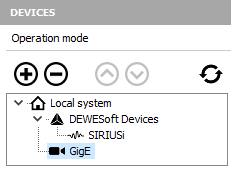 Please wait until the program finds the connected GigE camera. If the camera is not detected automatically you can use the refresh button.


You have to enter the camera's IP address manually and you have to be in the same subnet. You also can use the command line to ping the camera's IP address to make sure the IP configuration is right.
Here is an example: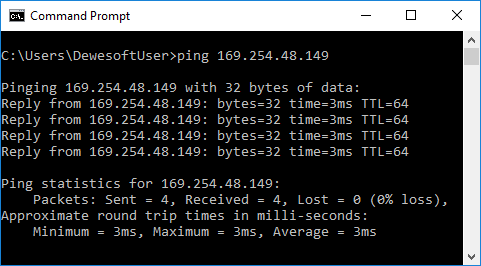 Click on GigE option under Dewesoft devices. You will see the connected cameras and the status of devices.

To activate "Use Trigger" set your Dewesoft DAQ device (Sirius or DEWE-43A for example) to be the master clock/trigger provider.

Support for 3rd party cameras
NOTE: Dewesoft supports only GigE cameras that are made by the standard GigE vision 1.2.
In order to use 3rd party GigE cameras in Dewesoft, it is required to edit the "GiGECameraDef.xml" file. You can find the XML file in the Addons folder "C:\Dewesoft\Bin\X3\Addons". All properties must be defined for each camera, otherwise the camera will not work correctly. In the "GiGECameraDef.xml" file there are instructions on which parameters must be defined to add support for your camera and also two already made examples. Below is the preview of the XML with instructions in green color.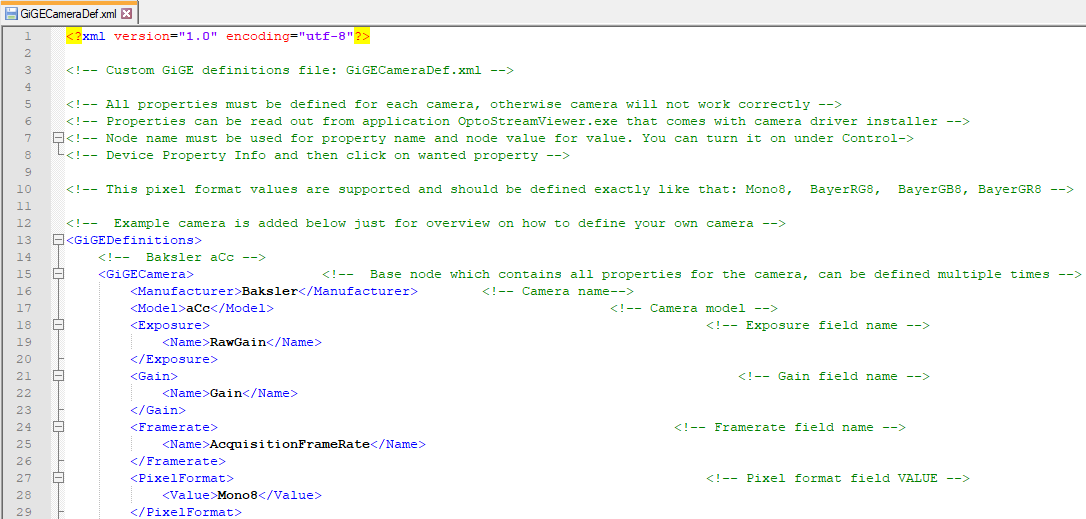 Supported BASLER external cameras
Supported camera models with GPIO (general purpose I/O) line (pin 3 is used as a GPIO line).
acA640-300
acA800-200
acA1300-75
acA1920-40
acA1920-48
acA1920-50
acA2040-35
acA2440-20
acA2500-20