DirectX camera
To learn more about Video module visit Video module section.
Setting up the DirectX camera to Dewesoft
To add a new GigE camera go to Options -> Settings -> Devices -> Add device, and an Add device window will open: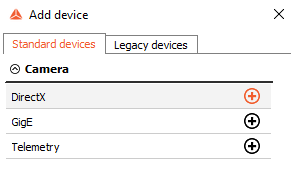 Under Standard devices -> Camera, select and click on GigE tab, that will create a new system.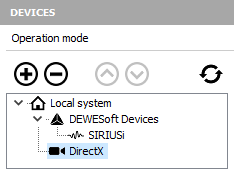 Please wait until the program finds the connected DirectX camera. If the camera is not detected automatically you can use the refresh button.


No other additional settings are required and you can close the Settings and proceed to the camera options in Video module.
To enable a Video module, click the plus button (More…) and select the Video.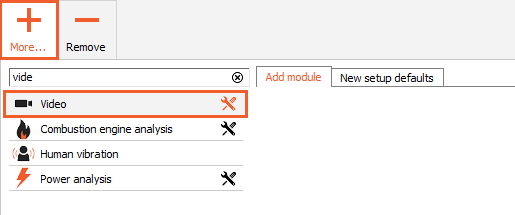 Choosing diferent file format
Enter the camera setup:

Click on the button Advanced in the Camera setup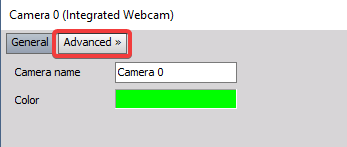 There you will be able to see File format settings. In this tab it is possible to choose between two file formats:
DVI (best performance)
AVI (video standard)