Startup
Startup option allows you to select what you want Dewesoft to do when you start it.
Multiple Instances
In the measurement world, you often encounter long-term measurement, especially in monitoring applications. It is very inconvenient to start the analysis after the data logger acquisition is finished, as you desire to obtain all the data as soon as possible. With the 2022.2 package, DewesoftX introduces just that, allowing you to open the data files during acquisition in a different instance or with another client/slave in NET configuration. The data file will contain data up to the very moment of opening, allowing you to start the analysis right away.
To allow Dewesoft to be started multiple times on the same computer, the multiple instances box must be checked in the settings.
When starting DewesoftX (primary instance), we can attach on this instance all DAQ (Data Acquisition Systems) we have attached on the computer to perform the measurement.
Every additional instance (secondary instance) can be opened to start analyzing acquired data. We can open as many secondary instances as we would like, and here we have no option to attach a DAQ system on it.
If our field of work requires more than one instance at the same time, we simply press the DewesoftX icon and we will get a new window "Select instance". With the plus sign the name of the new instance can be added.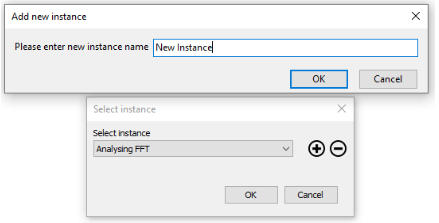 Each individual instance will create a new folder where DewesoftX is instaled, and all changes for this instance will be seated there and will have no impact on the primary instance. Due to this arhitecture only one instance with the same name can be open at a time, otherwise we will get a warning.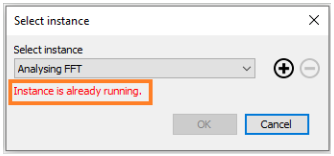 A minus sign can be used to erase an already saved instance name.
When opening the secondary instance you can choose the instance you want to open and the name of it will then be shown in the top right corner. Using this feature you can quickly differentiate between the instances. The list of previously used instances will remain in the drop-down menu, so you can quickly start where you have ended before.

Staring setup
Under Starting setup options you select what to do when Dewesoft starts.
Nothing (Dewesoft opens normally, no action is performed.)

Load setup (Dewesoft automatically loads a defined setup. We can also tell the program to go straight to Acquisition mode or to start Dewesoft in full-screen mode.)

Load sequence (Load sequence at the start will load the sequence defined in the file name and run when Dewesoft starts.)