Amplifier settings
On the left side of Dewesoft input screen Channel setup for channel n, we have Amplifier settings.
In the caption of Amplifier settings the Module type, Serial number and Revision number are displayed as the caption of this section.
For different modules, various settings are displayed on this section of Channel setup for channel n screen and you can control these modules settings directly from this screen.
Example: Amplifier settings part of Channel setup window, when SIRIUS-ACC module is installed in this slot: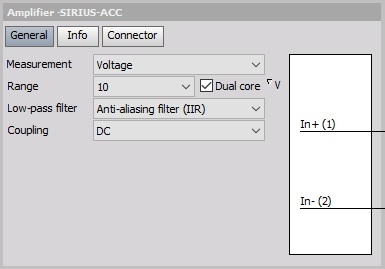 At Dewesoft we produce many series and special modules, e.g.:
SIRIUS® (ACC, ACC+, CHG, CHG+, HV, LV, LV+, MULTI, STG, STG+, STGM, STGM+, R2DB, R2D, R3, R8, R8D, R8DB, Mini, HD-LV, HD-STG, HS-ACC, HS-ACC+, HS-CHG, HS-CHG+, HS-HV, HS-LV, HS-LV+, MULTI, HS-STG, HS-STG+)
DEWE-43 )8 Analog inputs, 8 Super counters, 2 CAN bus port)
DS-NET (DS-GATE, DS-NET CPU, ACC2, CFB2, BR4, V8, V8-200, V4, V4-HV, TH4, TH8, DIO8)
KRYPTON (8xTH, 16xTH 4xLV, 8xLV, 3xSTG, 6xSTG, 8xRTD, 16xDI, 16xDO, 8xDI, 8xDO, KRYPTON CPU)
CAN interfaces (DS-CAN2), SIRIUSim 4xCAN, SIRIUSif, 8xCAN