Digital meter
The digital meter is designed to show the current or averaged value of the channel.

When you select a digital meter in the design or run mode, following settings will appear on left and right part of the screen:
For detailed information about digital meter Control properties: grouping, number of column, Add / Remove instruments, transparency,… see  -> Control properties.
Digital meter settings
Typical digital meter setting are:
Channels selector
For detailed information about assigning / reassigning channels to/from digital meter -> see  -> Display settings.
Example Digital meter in Design mode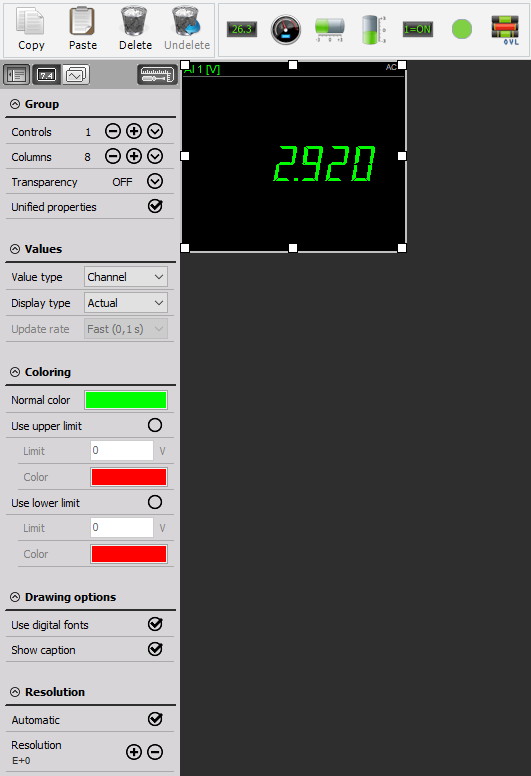 Appearance on screen
The digital meter has only one appearance: the channel name and unit is displayed at the top left, the display type at the top right side. The main space is used by the value letters itself.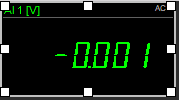 For detailed information about instruments positioning, size and transparency see  -> Screen edit functions.
Setting Display value
The digital meter can display different values. Besides the current measurement value, also timing information can be displayed: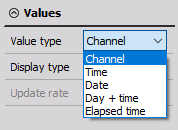 Channel - current measurement value, assigned to an acquisition channel
Time - current time of the acquisition system
Date - current date of the acquisition system
Day + time - number of the day within the current year and time of the acquisition system; this format is compatible with the timing information according to UTC
Elapsed time - time elapsed from the beginning of measurement
Coloring
Simply click on the Coloring check-box to select the normal color and upper or lower limit.:
normal color
upper limit
lower limit
Drawing options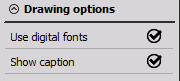 Simply click on the Drawing options check-box to show or hide the selected digital meter:
Example caption and frame ON:

Example caption and frame OFF:

Resolution
Sometimes it is useful to be able to add one or two digital of display resolution or delete one or two, according to the type of data being displayed.
Select a meter by clicking once on it. If Auto is checked, click either Inc(Increase) button or Dec(Decrease) button to add or delete digits to the right of the decimal point of the meter's display.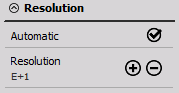 If Automatic Resolution is not checked, Leading and Trailing field is displayed to enter the number of digits. Below this also Exponent section appear.
When Manual Exponent is checked, two buttons appear:
Plus button to define exponent E in step by +3.

Minus button to define exponent E in step by -3.