Overload indicator
Together with other different data of measurement in various instruments Dewesoft provide Overload indicator display to show list information about overloaded signals.

When you select Overload indicator display in the design or run mode, following settings will appear on left part of the screen:
Control properties - For detailed information about Overload indicator display Control properties: grouping, number of column, Add / Remove, transparency,…see -> Control properties.
Overload indicator settings - Typical setting for Overload indicator instrument are: Display type , Column section.
Channels selector - For detailed information about assigning / reassigning channels to/from Overload indicator display -> see -> Display settings.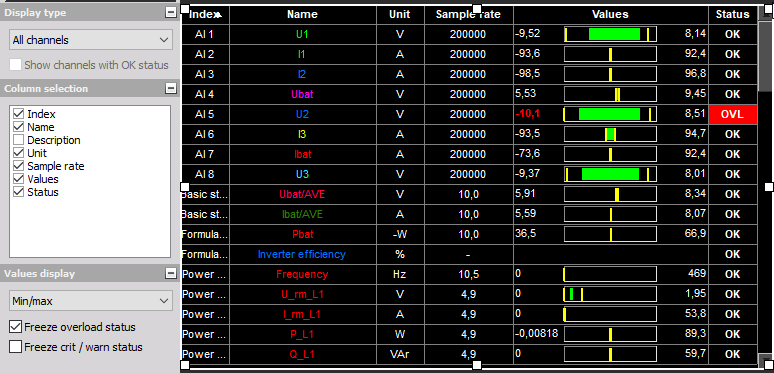 Appearance on screen
The Overload indicator display in tabular form channels information about:
Index
Name
Description
Unit
Sample rate
Values
Overload

In Values column also channel min and max values is displayed, bar graphically shows the current levels of the signal with their limits. In Overload column overloaded signals are designated graphically.
For detailed information about instruments positioning, size and transparency see -> Screen edit functions.
Overload indicator settings
Display type
The Overload indicator display can show channel information for:
All channels
Selected channels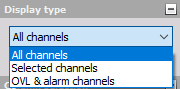 Select the Display type from the drop-down list according to your requirements. When we select All channels option then display the Overload indicator information for all channels. When we select Selected channels then empty Overload indicator appear:

and in Channels selector list of all available channels appear. From this list we can choose channels to display it in Overload indicator table.
Column selection
Dewesoft allows select columns which are displayed on Overload indicator list.
Simply checkbox in Column selection in front of the desired column name to show this column on Overload indicator (see below).